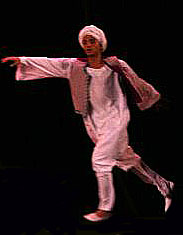 Egyptian dancer and choreographer
Ahmed Refaat started dancing allready
at age 9 in theater of Children
after two years he moved to Algezeera
Youth Center team of folklore dance.
under Professor Mokhtar Mustapha,

He participated in several
festivals worldwide in many countries:
Germany several times, Bulgaria, Spain,

In year 2004 and 2005 he participated
as a dancer and trainer in a Tourism
and Shopping festival in Oman

He recently participated as a dancer
in Reda Troupe for a
festival honoring Professor spiritual
Mahmoud Reda in Alexandria 2007 and 2008
Wherein he participated in several dances.

He was a guest teacher in a festival
of folklore held in Moscow, Russia
at Pharaounic School in 2003, 2005, 2006
and 2007 ...

Ahmed Refaat is a regular teacher at the famous
Nile Group festival in Egypt.

Ahmed Refaat is currently visiting Sweden Stockholm
for the first time as a guest teacher
the whole autumn at
EKC Dance School of Abou Shebika, where he teaches
regular classes 10 Weeks for all levels
- and with big success!


 He will also perform at the Swedish festival
Cairo By Night in stockholm
1 November 2008 as a solo dancer
and together with the Swedish dance group
Nefertari which he tought this autumn.

www33.websamba.com/arefaat / www.move.to/ahmedrefaat
Webmaster & Design: Abou Shebika